"TALKING" Bubba Bear
Send someone YOU LOVE a "talking Bubba Bear"!
Want to brighten a loved one's day? Want to put a smile back on the face of someone you love? Talking Bubba Bear will do just that! Sponsor a loved one today... Bubba Bear will be sent to that special person on your behalf!
"Talking Bubba Bear" and his CHAIR box. Bubba Bear will drop ship directly to your specifications!
"Talking Bubba Bear" is a cute cuddly bear that wears his trademark Camoflaged Cap... he's loveable, adorable and he never stops talking to you! Bubba Bear is humorous, curious and out right bosterous!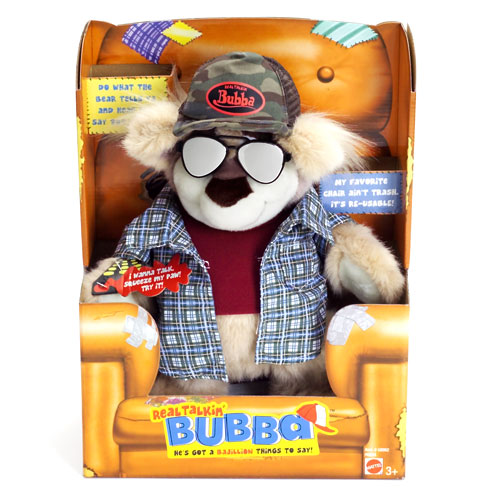 Official Bubba Bear Trademark
"Talking Bubba Bear" says over 200 different things to keep you entertained. Bubba Bear will talk and talk and talk some more! The more interactive that you are with Bubba Bear, the more stuff he has to say! Bubba Bear will keep you laughing all day long! And when you are ready to give Bubba Bear a rest... he's got his very on CHAIR box to sit in!
Sponsor someone you love by making a donation of FIFTY DOLLARS or more to Bubba Bear's RACC or RAAD programs and we will send Talking Bubba Bear to your loved one on your behalf!